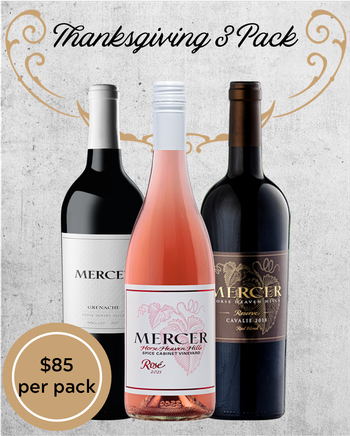 Thanksgiving Three Pack
This three pack will be perfect with your Holiday Meal! Here's why we think so:
Our rosé is a refreshing wine made with 100% Grenache. It refreshes your palate against all of the rich and creamy dishes you'll enjoy during Thanksgiving. On top of that this wine has flavors of cranberry & white tea which are a perfect pairing with the star of the meal, turkey!
Small Lot Grenache is a beautiful medium bodied red blend and will pair wonderfully with stuffing, turkey & all the traditional sides that accompany Thanksgiving.
Reserve Cavalie Blend is a bordeaux style blend with the composition being 59% Merlot, 32% Cab Sauv, 5% Malbec & 4% Petit Verdot. This blend is rich and complex with a long smooth finish making it perfect for your holiday table!
Pack includes 1 bottle each of 2021 Esates Rosé, 2018 Reserve Cavalie Bordeaux Style Blend & 2017 Small Grenache and is packaged in an elegant black gift box.
Pacific Northwest Customers, order by November 16th to receive by Thanksgiving.*
Customers outside the Pacific Northwest, order by November 14th to receive by Thanksgiving.*
*Ground shipping times cannot be guaranteed. Call or text 509-786-2097 to find out standard transit times to your address. To guarantee delivery date, select FedEx 2 Day shipping.